In English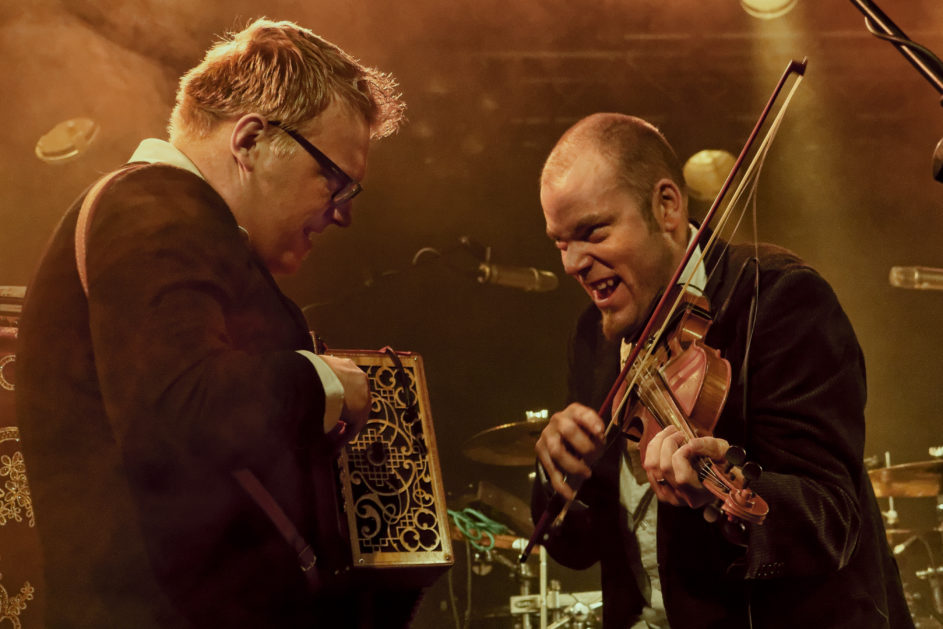 ​Folklandia Cruise, Helsinki – Tallinn
12 January 2018 – 13 January 2018
Theme of 2018

:
"With all the trimmings – the living heritage of folk music and dance"
A unique event providing the coolest folk music in an openly experimental style that draws on tradition and respects the folk heritage. The biggest winter happening in the world of folk music and dance will kick off the Finnish festival year on 12-13 January 2018 as we celebrate our 23rd season on the theme of "With all the trimmings – the living heritage of folk music and dance". Folklandia is backed by the main organisations, events and educational institutions in the field of folk music and dance.
A more detailed program will be released in November 2017.
Folklandia Cruise 2017
EVERYBODY SINGS- Folklandia Cruise sings and dances for Finland
The friends of folk music and folk dance come together for the 22nd time in Folklandia Cruise to open a new year with an especially festive mood. The cruise celebrates 100-year-old Finland by dancing, playing and singing. Finlandia hymn and Karjalan poikia transfer in to whole new forms through folk musician and folk singers.Folk Music and Dance in Finland has named a song as the theme for the upcoming year, and that shows in Folklandia Cruise especially as a chance to sing together. On Folklandia Cruise you can sing along for example to province songs, cuplés, sledging songs and folklore from the archives.In addition to domestic performers, international guests are arriving from seven different countries. All in all Folklandia Cruise has almost 130 performance ensembles. Also intangible cultural heritage embodiments are announced at the event. Folklandia Cruise returns to the renewed Silja Europa after three years. Folklandia Cruise background organizers want to wish everyone a joyous independence jubilee year and a fantastic folk music and folk dance year of 2017. Jukka HeinämäkiFinnish Youth Association, Folklandia Cruise 2017
Chillingly hot ecstasy! – International Guests
From the boat whistling, folk, rap and sizzling of ice rafts can be heard. The Folklandia cruise offers top names from seven different countries: England, Spain, Sweden, Slovenia, Denmark, Russia and Estonia. In the rich program buffet the best is served and the performers are the cream of the crop.Dynamic, flowing and wild atmospherePuuluup, the hot name in music in Estonia mixes folk in to world's music, underground and pop. The voice landscape of the duo is made out of combined sounds of jouhikko, some enhanced naturally and some electronically, and they form dance beats and in between dark movie-like shades. Another performer from Estonia is a singer and kantele player Mari Kalkun & Runorun from Võru, who finds her power from sledging songs, modern poetry and fenno-ugric music.Modern folk music ensemble Duo Systram formed by Swedish twins Klara and Fanny Kallström steers clear of definitions. The dynamic and flowing music ties violin and cello together, and the listener feels like the music flies them through the forests of Ångermanland.Fabulous and exciting soundsSeveral international ensembles performing in Folklandia have also some Finnish musicians as part of the team. The ensemble May Monday, with versatile masters like Karen Tweed (UK) and Timo Alakotila, puts together an interesting mixture of English-Irish folk music and Nordic folk music. Another fascinating ensemble is a Finnish-Danish-British called Baltic Crossing, whose speciality is to turn a combination of different music styles into fabulous songs that make you want to put on your dance shoes. The band includes Kristian Bugge, Ian Stephenson, Andy May and Esko and Antti Järvelä. Floating with boat is also the Danis-Finnish supertrio Nordik Tree.Speed, flying and glidingInternational color for the dance part of the cruise is brought by Queixume dos Pinos, a Galician group performing traditional Spanish folk dances accompanied by bagpipes. Slovenia brings us a speedy student group Academic Folk dance group Student, who brings the traditional chair and hat dances with them. And then from Russia, the vivid and colorful Petersburg Souvenir is visiting with their orchestra
Wildly passionate, wistful and tender – National Guests
Folklandia has the pleasure to start the festival year "Finland 100 years". G major is the key. Kihtinäjärvi Records has produced a piece to Folklandia: "Karjalan poikia – Finland 100 years". In the piece the polka "Karjalan poikia" is played, sang and danced in various ways. According to the theme of the year 2017, set by the Folk Music and Dance in Finland, songs sang on the boat differ from old school songs to Finlandia and sledging songs to hit songs, and all of these are sang as a choir, solo, alone and together. Pioneers, strong sounds and spells of love The pioneer of Finnish rap is charmed by the variety in arts and the society and the many dimensions of music. Because of that, an open-minded rhytm section Laitakaupungin orkesteri will have Paleface as their lead singer. Folk instrument orchestra Folk Big Band (FBB) conquers the stage with a spiritual, strong ensemble of 40. FBB promises new songs in addition to the well-known hits, and even performance debuts. Energetic Tsuumi Sound System, led by Hannu Kella, is also heard on the boat. Critics have been describing them as volcano-like modern folk music ensemble. An ensemble arriving to their maiden voyage is Accrowbatics, consisting the outstanding accordion playing folk musicians Markku Lepistö, Jari Komulainen, Pekka Pentikäinen and Juha Virtanen, a group that has never been heard before. The genius with jouhikko, Pekko Käppi, comes to Folklandia with an ensemble called Pekko Käppi & K.H.H.L. This means blood, death and spells of love mixing folk, heavy metal and Finnish folk dance. Desirée Saarela & Triskelin on the other hand are celebrating today's singer-songwriter tradition in folk music on their brand new folk music record. Hems of the skirt of the Maiden of Finland, growing pains and rootlessnessFrom Finland the joy of dance comes for instance through a fragment by Dance theater Hämy or the mythological mixture written and directed by Petri Kauppinen, "Suomi Hall of Fame", a piece where the homeland heroes are in the hems of the skirt of the Maiden of Finland. "Hässäkkä Goes Ultra Bra – Sokeana hetkenä" by Elssa Antikainen and Hanna Poikela is a tribute to the band Ultra Bra and through familiar songs deals with themes related to young adults such as freedom, passion and letting go. "Juuret", a Karelian folk dance and folk music piece, by Ottoset ja Häävi tells about roots and rootlessness. Piece by Miia Timonen, Tuomas Alamikkelä, Sampo Korva and Vuokko Korva talks about the fact how some people are ripped away from their roots and some leave voluntarily, but how to keep the connection no matter what. And this is obviously not all, folks! Learn more about the program.
Folklandia's showcase ensembles 2017
Showcase ensembles have been chosen: FairTrad from Lahti and a duo mammantytöt! from Helsinki. The chosen ensembles will perform in Folklandia Cruise on 13th to 14th of January, 2017. The panel of judges included musician Esko Järvelä; promotion and project manager Henna Salo and cultural producer of Pispala Schottische Jussi Kaijankangas. The showcase, that was organized this year for the second time, had 10 applicants. The goal of the showcase is to offer young folk music ensembles new performing opportunities. Finnish Youth Association organizes the event with cooperation of the background organizers of Folklandia Cruise. Event also partners up with Music Finland.
mammantytöt!
is a new, fresh and delightful duo, who charms with their vibrant harmony singing, rambunctious way of playing and wild whistling solos. Duo was founded autumn 2015 when the girls started their studies in the University of the Arts, in Sibelius Academy, folk music as their major. The motto of the duo is "glitter and trad!". Girls describe their music with a name cool Finnish folk. The debut album of the duo is published in Folklandia 2017. DUO: Laura Petäjä – vocals, cello, double bass and Vilma Jääskeläinen – vocals, violin, pump organ. FairTrad. is the new name in the field of prog folk. Unique and experimental band also defines their music as ethnic pop and street folk music. All the young musicians of the ensemble compose, write lyrics, play and sing.
FairTrad.
was founded in 2012. The instrument repertoire includes also banjo, bansuri, glockenspiel, madal and djembe. On the Faces festival 2013 the ensemble won the title of Finland's master of street music. Debut album is published during the spring 2017. ENSEMBLE: Valtteri Tuukkanen (drums/percussions), Set Häkkinen (vocals/guitar/ukulele-bass), Matleena Käppi (vocals/wind instruments/glockenspiel), Saku Knuuttila (vocals/guitar/ukulele-bass/mouth organ).